Southern Oklahoma Library System
601 Railway Express, Ardmore, OK 73401
Phone: (580) 223-3164
Fax: (580) 223-3280
Monday - Thursday
8:30 AM - 7:30 PM
Saturday
10:00 AM - 2:00 PM
Summer Reading is Here! Take a Look!
Champion Public Library is located at 601 Railway Express in Ardmore, Oklahoma which is behind the Two Frogs Restaurant on South Holiday Drive. From Interstate 35 use Exit 31-A.
Balance and Strength Exercise Class
Looking for an easy exercise to help develop balance and strength but don't know where to start? Join the Champion Public Library to practice exercises that improve everyday life with instructor Susan Cowlbeck. This 10-session class will be held on Tuesdays and Thursdays at 2:00 PM. Classes begin Tuesday, May 16th, and will continue through Thursday, June 15th. Call to sign up, space is limited.
Dungeons & Dragons 101
How to Create a Character
Are you interested in playing Dungeons and Dragons but don't know where to start? Look no further than the Champion Public Library's Dungeon and Dragons 101 on Tuesday, June 13th from 5:30 to 7:00 PM. In this workshop, guests learn the basics of character creation, from choosing your character's race and class to rolling for stats and selecting equipment and gameplay. The workshop will be held at Anime City, 1022 W. Broadway in Ardmore, OK. All ages are welcome to attend.
Teen Anime Watch Party
Teens, do you love anime, or are curious about what anime is? Come join Champion Public Library for a fun evening of anime on Thursday, June 29th at 5:30 PM! Guests will vote on two popular anime series we watch and talk about them. At the end of the program, everyone will vote on which anime was the best. Bring yourself and some friends for a fun anime-watch party!
Book Club
Join others at the Champion Public Library for a monthly book club on Thursday, July 6th at 5:30 PM. Conversation, fellowship, and refreshments will be centered on popular book titles for adults to discuss. This month's book, "The Lincoln Highway" by Amor Towles will be discussed.
Super Smoothies Demo
Looking for a healthy and nutritious snack or breakfast option? Look no further than the Champion Public Library! On Tuesday, July 11th at 2:00 PM, presenter Shannon Ellis will teach patrons everything they need to know to make delicious and nutritious smoothies.
Puffy Paint Friendship Bracelets
Craft enthusiasts wanted! Champion Public Library has a fantastic idea for you to try out – creating puffy paint friendship bracelets on Wednesday, July 12 from 5:30 - 7:00 PM! The library will provide bright and colorful puffy paints and strings; you bring your imagination. You can design all sorts of patterns, from basic shapes to elaborate patterns. Once your bracelets are dry, wear them with pride and showcase your friendship in style.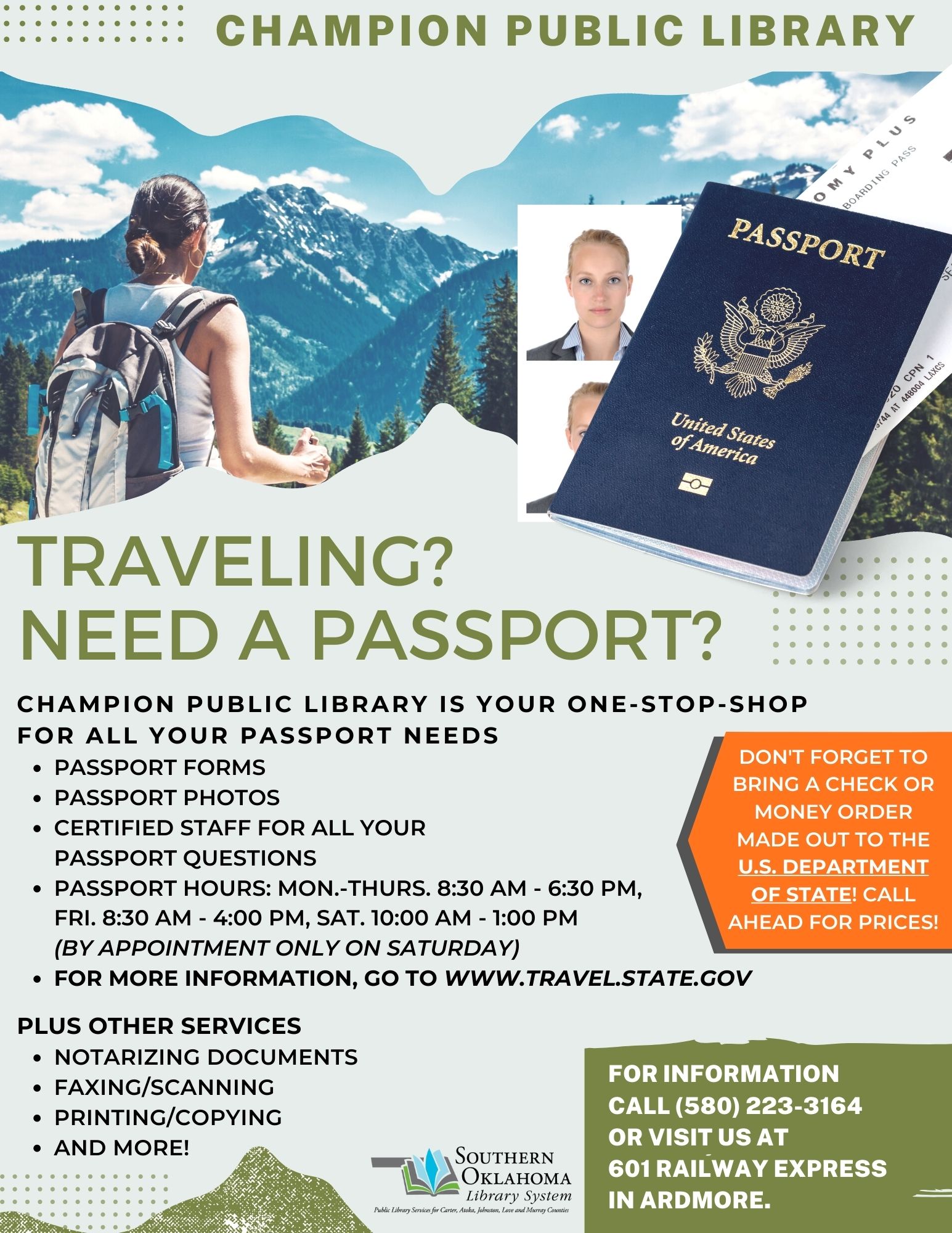 Passport
Traveling? Need A Passport?
Champion Public Library is your one-stop shop for all your passport needs! Forms, photos, and more, the Champion Public Library in Ardmore can help.