Healdton Community Library
554 South 4th Street, Healdton, OK 73438
Phone (580) 229-0590
Fax (580) 229-0654
E-mail: healdton@southernoklibrarysystem.org
Lori Ratliff, Branch Manager
Call about Library Programs!
Monday - Thursday
11:30 AM - 5:30 PM
Friday
11:30 AM - 2:30 PM
Saturday
10:00 AM - 1:00 PM
Turn south at the stop light on Main Street. The Healdton Community Library is located one block south on the east side.
Drive Through Santa Event
Visit the Southern Oklahoma Library System this month for our annual Drive Through Holiday Event. Santa and Mrs. Claus will make an appearance at your local SOLS branch throughout December on several dates and times. Guests will receive a holiday treat and have the opportunity to take a photo with Santa and Mrs. Claus. Remember to bring your camera!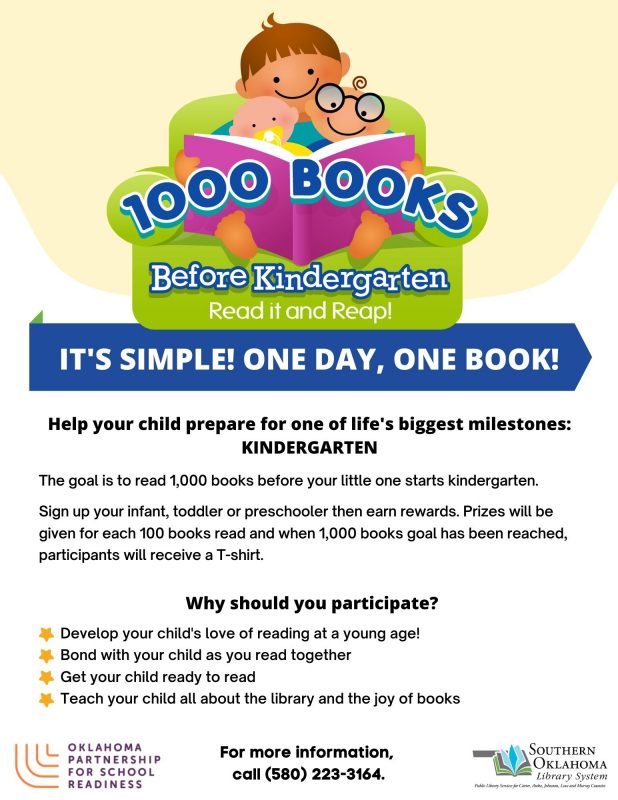 1,000 Books before Kindergarten
It's easy! One day, one book.
It's easy! One day, one book. Help your child get ready. The goal is to read 1,000 books before your little one starts kindergarten. Sign up your baby, toddler, or preschooler and get rewards. Children get prizes for every 100 books they read. When they read 1,000 books - get a T-shirt!