The library has homework help, digital downloads and streaming of movies, books and audio. Stop by the library for crafts, fun science and tech, games and computers. We even have a 3D printer!
Dungeons & Dragons 101
Are you interested in playing Dungeons and Dragons but don't know where to start? Look no further than the Champion Public Library's Dungeon and Dragons 101 on Tuesday, June 13th from 5:30 to 7:00 PM.  In this workshop, guests learn the basics of character creation, from choosing your character's race and class to rolling for stats and selecting equipment and gameplay. The workshop will be held at Anime City, 1022 W. Broadway in Ardmore, OK. All ages are welcome to attend. Don't miss out on this opportunity to dive into the exciting world of Dungeons and Dragons.
American Sign Language Class
Curious about learning American Sign Language (ASL) but don't know where to begin? Starting on Tuesday, June 13th through Tuesday, July 25th, Parker Memorial Library will feature classes on ASL at 6:00 pm. This 6-week course is for adults interested in learning ASL from instructor Candy Fields. This class is for ages 13 and up. Guests are encouraged to sign up in advance.
Teen Anime Watch Party
Teens, do you love anime, or are curious about what anime is? Come join Champion Public Library for a fun evening of anime on Thursday, June 29th at 5:30 PM! Guests will vote on two popular anime series we watch and talk about them. At the end of the program, everyone will vote on which anime was the best. Bring yourself and some friends for a fun anime-watch party! Teens between 13 to 17 are welcome to attend.
Affirmation Jar Craft
Are you looking for a fun and creative activity with your children? Head over to the Love County Library for an afternoon of crafting and positivity on Friday, June 30 at 3:00 PM! Join us for our "Affirmation Jars" activity where young patrons can create personalized jars filled with positive affirmations. They'll love decorating their jars with colorful stickers and markers and filling them with uplifting messages to read whenever they need a little pick-me-up. Children ages 9 and up are welcome to attend.
Puffy Paint Friendship Bracelets
Craft enthusiasts wanted! Champion Public Library has a fantastic idea for you to try out – creating puffy paint friendship bracelets on Wednesday, July 12 from 5:30 - 7:00 PM! The library will provide bright and colorful puffy paints and strings; you bring your imagination. You can design all sorts of patterns, from basic shapes to elaborate patterns. Once your bracelets are dry, wear them with pride and showcase your friendship in style. This crafting program is for ages 14 and up. Don't miss out, make sure to sign up to reserve your spot.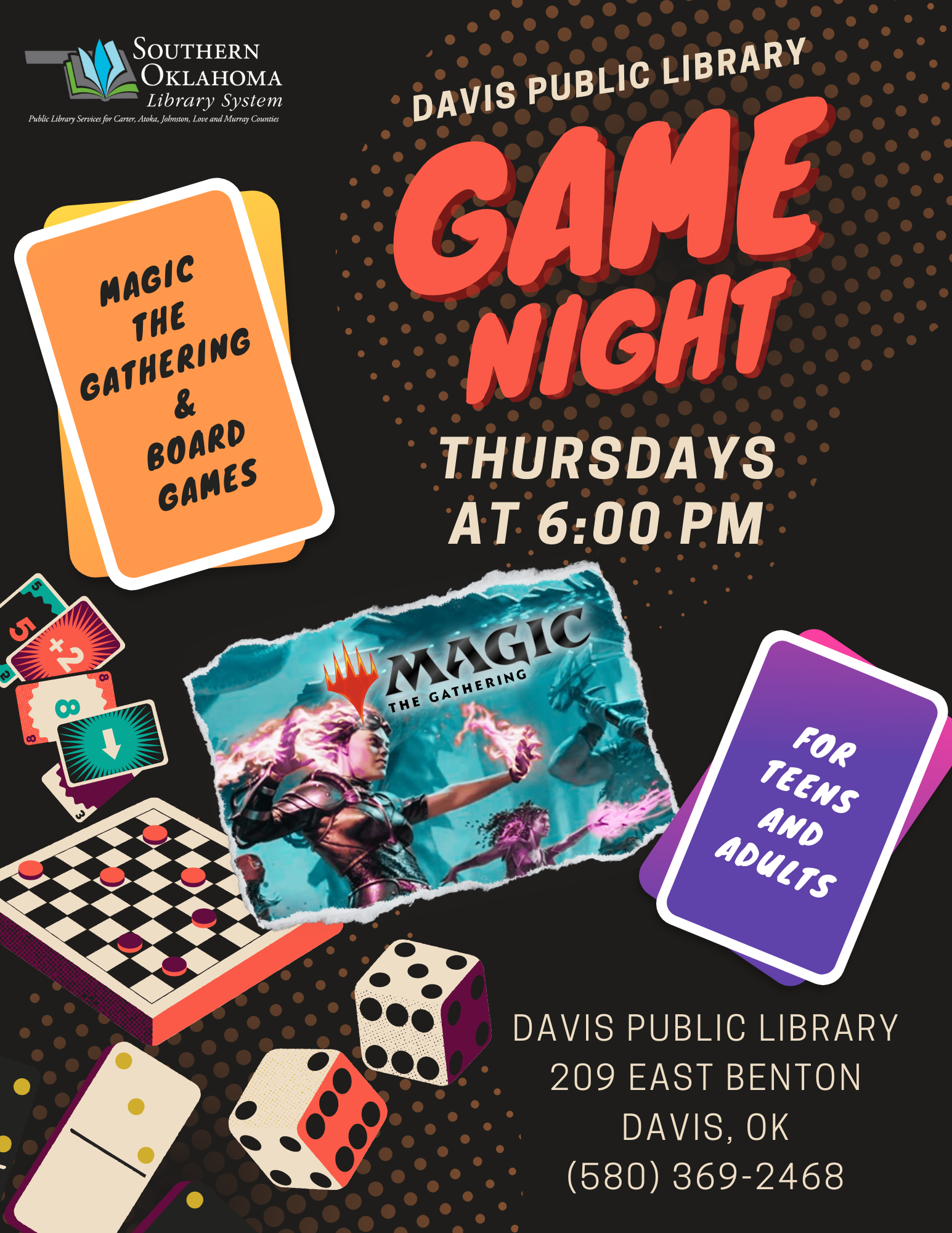 Game Night
Game night is the perfect way to bring the thrill of an all-out magical battle to your friends and family all in one convenient box. Fans of Magic the Gathering are invited to the Davis Public Library every Thursday at 6:00 PM to participate in this popular competition. In addition to this popular card game, the library will also have board games available for everyone to play. Have a board game you would like to play with others? The library also encourages patrons to bring their own board games. Who knows, you might make some new friends along the way. This program is free and open to teens and adults.